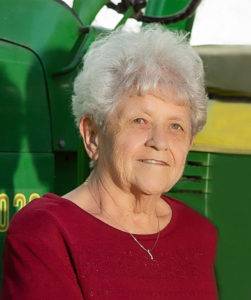 The graveside service for Jen Kosbab will be live streamed on
Saturday, April 18 at 1pm.
GENEVIEVE (JEN)'S OBITUARY
Northrop, MN
Genevieve (Jen) Kosbab, age 81, passed away on Monday, March 30, at the Mayo Clinic Health Systems in Mankato, MN, due to pneumonia/Covid-19.  A Private family graveside service will be held for her at St. James Lutheran Cemetery, Northrop.   Cards and expressions of sympathy may reach the family at:  1824 210th Ave. Fairmont, MN. The Lakeview Funeral Home and Cremation Service of Fairmont is assisting the family with arrangements.
Genevieve Helen (Blom) Kosbab was born on June 22, 1938 to John and Lillian (Klien) Blom on the farm in Lake Belt Township in Martin County, MN. She attended grade school in Ceylon and also graduated from the Ceylon High School.
Genevieve was united in marriage to Rollo Kosbab on June 7th, 1959, in Ceylon, MN.  This marriage was blessed with six children, Dale, Robin, Jody, Toni, Tim and Chad.  Jen and Rollo made their home on a farm north of Northrop.  Jen worked at First National Bank in Fairmont until the birth of their first child.  Then she worked side by side with her husband on the farm.
She had a plaque in her kitchen that read "All work and no pay makes a farmer's wife."
In Jen's free time, she played on a lady's softball team, a bowling league, served on the Pork Producers, was in a Project Club, Ladies Eve circle and many other committees for church. She also volunteered at the Fairmont Hospital.
When the children attended Northrop parochial school Jen was the taxicab for many sporting and school events. She also enjoyed her many hours of mowing. Jen and Rollo could be found quite often watching their children, grandchildren and great grandchildren at sporting and school events.
She leaves behind her loving husband of 60 years, Rollo;  Six children: Dale (Jacy) Kosbab, Robin (Steve) Bretey, Jody (Keith) Franck, Toni (Jeff) Peterson, Tim (Loretta) Kosbab and Chad (Mandi) Kosbab; 27 Grandchildren, 13 great-grandchildren; Four sisters: Barb (Larry) Schmidt, Gloria Martin, Judi (John) Krizek, Linda (Chuck) Westphal; Two brothers: Bob (Lynor) Blom, Lloyd (Paula) Blom; Brothers-in-law: Maynard Bettin, Richard Schultze and Bob Kosbab; Sister-in-law, Phyllis Kosbab, and many nieces and nephews.  
Jen was preceded in death by her parents, John and Lillian Blom; Sisters: Margaret Bettin and Julaine Schultze; Mother and Father-in-law, Henry and Lillian Kosbab; Sisters-in-law: Esther & Dorwin Mohwinkel, Helen & Leo Becker and Pat Kosbab; Brothers-in-laws: Dave Fanter, Ronald Martin, Bill Smith, Herbert & Lorna Kosbab and Delbert Kosbab; 3 nephews and 4 nieces.
The family request that memorials be given in Jen's name to St. James Lutheran Church, Northrop.